TITANIC General Arrangement Plans ©
Presented by Bruce Beveridge
Titanic General Arrangement Plans in 1/350th scale.
Have you ever wondered what the internal arrangement of the post office looked like on Titanic? The 1st class pantry or 3rd class galley? The Captain's quarters, or Scotland Road? The engine rooms and propeller shafting? What the size of the deck planking was in the well decks?
For the first time ever you can look inside the Titanic's hull and envision how she may have looked from the passenger and crew's viewpoint. The Titanic General Arrangement plan covers each deck in magnificent detail, showing doors, furniture, alleyways, machinery and even the individual portholes for every part of the ship. With the frame numbers indicated for each deck, this offering is quit literally an overload of information.
Drawn by Titanic historian Bruce Beveridge with the expert assistance of Scott Andrews and Daniel Klistorner, you will not see anything of this magnitude anywhere else.
Also featured is a guide to Titanic's windows that indicates the size of each pattern used on the weather decks taken straight from a Harland & Wolff specification book on the Olympic. The size of each porthole is represented, along with external doors and stairs. A key is provided to identify the specific internal fittings and abbreviations, which includes water closets, upholstered sofas and settees, wall seats, wash basins, dressers, wardrobes and more.
This Titanic General Arrangement plan is just like the well-known 1st class accommodation plan that has been reprinted in many Titanic books, only in this case, it encompasses the whole ship for all three classes, and crew.
The size of the plan is approximately 36" X 54" and is suitable for framing.
Price per print is $39.99 USD plus $6.50 Shipping and Handling.
Experience the Titanic.




B Deck General Arrangements ©
(click ship graphic for preview of plans)
Note from Bruce Beveridge:
Being a trustee for the TRMA, I believe that information such as is available on these plans should be made available to the public. It is because of this philosophy and love for this ship, that I drew these plans, and am offering them here.
The references used for this work encompass, among other things, Harland & Wolff's general arrangement plans of the Titanic (early rendition), original construction drawings and deck iron plans, wreck footage, survivor testimony, period photos, the Titanic's (latest edition) 1st class passenger plan, and Olympic general arrangement plans not commonly available to the public. Most importantly I used the Titanic's general arrangement plans issued my Harland & Wolff for the Limitation of Liability hearings. This plan indicates the correct room numbers and room configuration of Titanic as she sailed from Southampton. The general arrangement plan printed in many Titanic resources, and was available from Harland & Wolff up until a few years ago, is an early rendition and does not include the later changes made to Titanic's interiors.
No one knows all of the Titanic's general arrangements. A historian can only rely on available resources, and knowledge of maritime practice of the era, to interpret would may have been. With every bit of information gathered that I could find, and after sifting through rolls and rolls of Olympic plans for what would have been 1912 era fittings, I created what should be an accurate depiction of Titanic's internals. Those compartments based solely on Olympic are indicated as such, and compartments based on an educated guess (based on Olympic) are also noted.
Most people in the Titanic Enthusiast arena know me for my studies of external appearance, fittings, and machinery as this is my center of interest. But because of my limitations on the Titanic's internal arrangements, I had to find historians who specialized in specific areas of the ship to double-check my work. I was able to recruit Scott Andrews for the Engines and auxiliary machinery, and Daniel Klistorner for furniture and room arrangements. These gentlemen are without doubt the best there is in these fields. Ray Lepien contributed greatly by actually purchasing original documents from the Olympic so I could use them for reference, and Peter-Davies Garner, with the help of Steve Rigby unearthed some rare Olympic plans that I needed for the 2nd class compartments and the lower decks of the ship. I thank them all!
Bruce Beveridge



E Deck General Arrangements ©
(click ship graphic for preview of plans)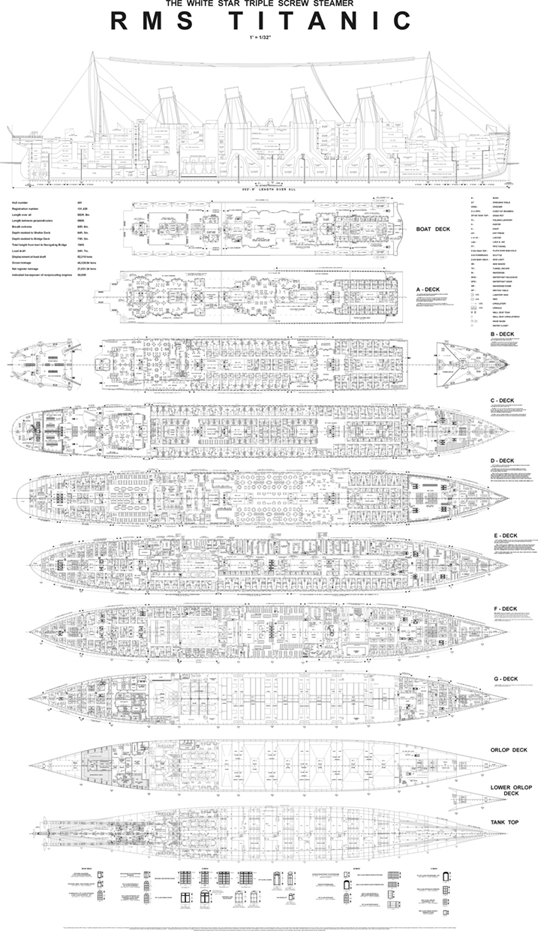 CLICK HERE TO PLACE AN ORDER WITH A CREDIT CARD
Orders are placed through a TRMA approved third party source. Clicking on this link will direct you away from the TRMA